Dicamba Injury and Insurance
Dicamba can cause injury to off-target plants leading to third party injury claims that involve business liability insurance plans. Third party injury is when the actions of one person affect another person.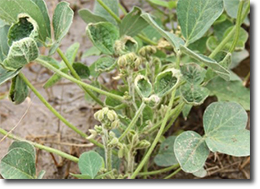 The introduction of Xtend soybeans and cotton in 2016 created new challenges for insurance. The number of third party injury cases to neighboring farms and gardens rose quickly.
Farmers spraying the formulations of dicamba over the top of growing crops appeared to be caught off guard and had no risk management plan in place. Neighbors whose crops, gardens and trees were injured sought to be made whole. Insurance companies were faced with a different risk for which they had little experience.
All this drew attention to the role and importance of liability insurance as a business risk management tool. This page presents information on various types of insurances. It is targeted mainly to farmers. Farmers are unlikely to purchase professional liability or product liability insurance but will find it informative when dealing with losses they experience or cause.
Guides
Dicamba Labels and Regulations
Powerpoint Presentations

This page is supported by a grant from the North Central Extension Risk Management Education Center.